We're nearing the end of our first series as Ed's History of Rock & Roll part 1 stops at the end of 1963. He's working on the sequel now and it'll be out in 2019. But for now we've got so much to talk about on 1963 that we're splitting it into two episodes.

This week we'll be talking about how Berry Gordy perfected his Motown assembly line, Phil Spector and the wrecking crew, Roy Orbison's operatic dramas, Patsy Cline's final year and how James Brown finally seized control of his career and became the Godfather of Soul.
Powered by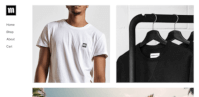 Create your own unique website with customizable templates.