In the second episode Nate talks to rock historian Ed Ward about the early 1950s and the emergence of Rhythm and Blues. They discuss the legendary song "Good Rockin' Tonight" and the two simultaneous hit versions that came out in 1949 plus the early work of Ray Charles, Sam Cooke, Ruth Brown and the late, great Johnny Ace.
As always you can read all about it in Ed Ward's epic History of Rock & Roll part 1.
Powered by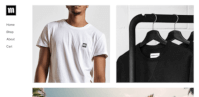 Create your own unique website with customizable templates.