This week Ed Ward and Nate Wilcox discuss 1959, a year that started with tragedy for rock n' roll and went on to see the first flowerings of soul music and the Brill Building pop that would dominate the early 60s. Ed and I debate alternate histories and what ifs regarding the early death of Buddy Holly and Richie Valens, the Ray Charles song that set the young Beatles on fire, and 18 year old Phil Spector's first big hit and the beginnings of Motown.

As always you can read all about it in Ed Ward's epic History of Rock & Roll part 1.

Powered by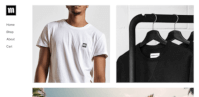 Create your own unique website with customizable templates.