Today Ed Ward and I will be filling in a gap in our discussion of his epic History of Rock & Roll Part 1, 1920-1963 by discussing the foundation of commercial country music and its first superstars, Jimmie Rodgers and the Carter Family.

This week, Ed and I talk about the 1927 Bristol Virginia sessions where A&R man Ralph Peer discovered both Rodgers and the Carters, their different career arcs and musical styles and their incredible impact on American popular music.
Powered by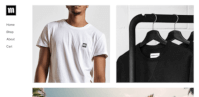 Create your own unique website with customizable templates.