This week author Paul Trynka returns to discuss his first book, "Portrait of the Blues" a classic that's unfortunately out of print but widely available online for a slight premium.

In this episode Nate chats with Paul about the time he spent connecting with legendary bluesmen like John Lee Hooker, Buddy Guy, Hubert Sumlin and the stories they told about their lives and adventures playing the blues from Mississippi to Chicago and all over the world.

Powered by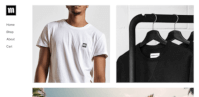 Create your own unique website with customizable templates.